Bringing Diversity to Schools & Your Community Through Music
This past year, I had the wonderful opportunity to work with Ridge Hill Elementary School Choir in Hamden, as an accompanist and as a coach for a Brazilian Folk song "O Cirandeiro". The music director, Mr. Michael O'Herron was absolutely wonderful in mentoring the young children and guiding them to make this beautiful song come to life. I was impressed by these kid's willingness, dedication and ease to not only memorize a new song, but in a completely different language. It was a very rewarding experience! We hope to continue to include diversity into the music teachings of local schools. Check out the video of the performance! Other videos from the same performance here and here. 
During the Spring, I had the privilege of continuing to work as the piano accompanist for the Ridge Hill Elementary School in Hamden, CT. Continuing with the diversity theme, we collaborated with local musician/drummer/songwriter Luke Rodney, who shared two of his beautiful original children's songs from his latest album Ta Te Ta Ta (available on CD Baby) produced by guitarist, arranger and composer George Lesiw. I arranged the songs for a two-part chorus and piano, collaborating with Mr. O'Herron, Luke and George. In the classroom, Luke, Mr. O'Herron and myself worked together to transform a 12-piece band arrangement into a beautiful kids choir arrangement with percussion, piano and quatro (a four string guitar). The kids loved working with us and learning this beautiful, cheerful children's music. Check out the video from his song Lilly Pad and Celebrate Life here. 
"Luke's original Trinidadian-inspired songs were immediately both singable and relatable. His interactive approach allowed students to engage in music making on a truly personal level that gave added meaning to their performance. 
Earlier in the year, Isabella's student coachings around the Brazilian folk song "Cirandeiro" helped add a layer of authenticity to our Winter Concert performance. She was also adept at helping arrange and produce many of the extra instrumental and vocal parts, as well as accompanying the chorus on the piano at both performances. 
Both Luke and Isabella's dedication to the arts goes beyond that of performing music - it is a message that speaks more broadly to the enrichment of the human spirit. As Luke mentioned in his comments to parents and students at our 2017 Spring Concert, "music is a stabilizing force in our society". 
It was a pleasure working alongside such dedicated musicians, and I know the effects of this positive experience has had a lasting impact on many student members of the chorus, beyond the walls of the classroom. Thank you both again, for helping to make a difference in the lives of students, parents, and teachers in our community!" 
~ Mr. O'Herron - Music Teacher at Ridge Hill Elementary School, Hamden, CT
Community Events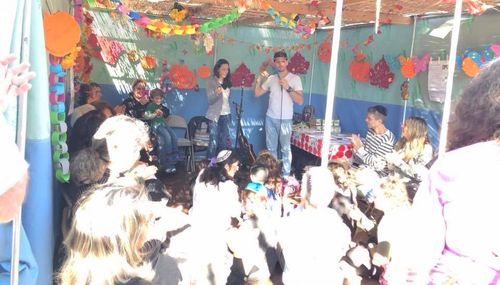 "The Brazilian experience Isabella Mendes Music brought to Congregation B'nai Israel of Danbury, CT involved all ages and had everyone dancing! Isabella Mendes Music shared Brazilian culture through various types of music from particular Brazilian regions, and how those regions influenced the music. There were toddlers playing instruments along with Isabella, and there were adolescents learning Brazilian demographics with colored maps of Brazil provided by Isabella, so everyone had a part in the excitement! Isabella is a great teacher and a fantastic performer! I highly recommend Isabella Mendes Music for educational events."
~ David Levine from B'Nai Israel of Danbury, CT