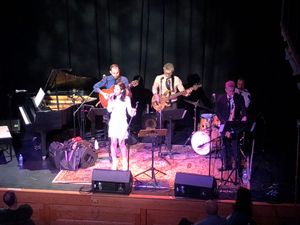 "

[Isabella's] expressive, pristine vocals, ... can mix a sense of vulnerability with resilience and joy, have become part of her effervescent signature sound ... along, of course, with her well-honed jazz piano playing. "
The Bossa Nova Project was founded by Brazilian singer-songwriter/pianist, Isabella Mendes, with the intent to bring people together to share happiness through music. The project was inspired by the original Bossa Nova movement which took place during the Brazilian "Golden Era" in the 60's, when Brazil was booming, culturally, socially and economically. Bossa Nova brought people together through the music.  It began as a collaboration between friends and musicians, coming together without pretense or ego but more with a genuine interest in the new music.  Musicians such as Antonio Carlos Jobim, Nara Leão, Carlos Lyra, João Gilberto and others, would gather at each other's apartments to play and sing songs that celebrated the beach, beauty, "Carioca" life and nature while speaking of Love and Happiness.  The goal of the Bossa Nova Project is to replicate that original intent: to share beautiful music with others in order to bring people together and to bring Happiness to the world. 
"I am very lucky for the opportunity to perform with so many of these incredible world renowned musicians." - Isabella
Click on images to download the original photo. Click on artist's link to view their website/bio.